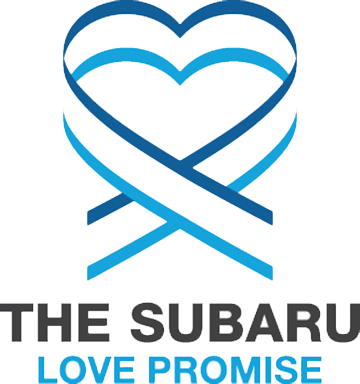 What is the Subaru Love Promise?
Subaru and our retailers believe in making the world a better place and the Subaru Love Promise is our vision of respecting all people. This is our commitment to show love and respect to our customers and to work to make a positive impact in the world.
How is Rimrock Subaru dedicated locally to the Love Promise?
Our Love Promise can be seen in various partnerships with local charities and non-profits. We're grateful for the opportunity, not only to be a part of our community, but to serve it as well. Our Love Promise also extends to each customer, as they make the community what it is today.
Billings Animal Shelter, Yellowstone Valley Animal Shelter
Bench Elementary, Orchard Elementary
Toys For Tots, Family Services
Love Promise Stories from Rimrock Subaru
Subaru and Rimrock Subaru believe in making a positive impact on the communities in which we live and work. We uphold that belief through our Love Promise Community Commitment. Every month, we select inspiring stories from customers and partners from around our area who strive to support our collective commitment and feature them here
Working Together: Finding Fur-Ever Homes for Underdogs - Tiffany S
October brought a record-breaking number of animals through the doors of Yellowstone Valley Animal Shelter (YVAS). We were extremely grateful that our partnership with Rimrock Subaru of Billings and Subaru of America allowed us to offer discounted adoption fees throughout the month - which resulted in 281 adoptions! Fifteen of those adoptions were facilitated at an adoption event hosted by Rimrock Subaru of Billings on Saturday, October 22nd. The adoption event had something for everyone - kittens, puppies, adult animals, senior pets, and even a costume contest. As a result of the event, several underdogs (including two blind puppies & our longest-stay senior cat) found their loving, fur-ever homes! Thanks to Rimrock Subaru of Billings, Subaru of America, and all of our YVAS staff & volunteers for helping us make this event (and month) a huge success for our animals. We couldn't do what we do without the support of our community!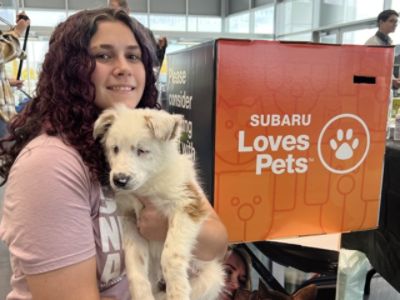 ---
The Forever Car - Kayla A
Returning customers are the best customers. Jennifer and her husband, Jason, have been known through the area for having the best food in Billings. Owners of The Marble Table downtown. The Marble's calling in life is helping others, helping people. Jennifer told us, "it is what my husband and I want to do, it is what we do. It is our calling to help people." These two are always coming up with new ideas on how to benefit the surrounding area and help people grow. Jennifer even takes the time to deliver food from their local restaurant to surrounding bars and business. Food delivered from The Marble Table by The Marble Table. Jennifer had previously purchased a car from Subaru, but it was missing a few things that was necessary for her lifestyle. Her sales representative, Brady, was on a mission to find the 'forever car' for Jennifer and her family. The car was ordered and it was just a short wait until it arrived. With all the features and capabilities that a mother, wife, business owner, and Montanan could need, the 'forever car' was here. We are so grateful to have the community that we do, and have the customers that we are fortunate enough to have. Jennifer made another appearance, bringing delicious cookies for the staff at Subaru and a thank you card. Congratulations, Jennifer, on your new car and we look forward to see you and your family conquer every idea and project you have. Keep doing exactly what you are doing, we appreciate every footprint that you leave on this community.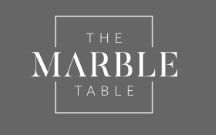 ---
Yellowstone Art Museum - Kayla A
Rimrock Subaru was looking for local outstanding organizations in Billings. Coming across the Yellowstone Art Museum. YAM goes above and beyond to make sure their mission, vision and values are met each year. Mission: The Yellowstone Art Museum exhibits, interprets, collects, and preserves art, for the enrichment, education, inspiration, and enjoyment of all. Vision: Be an extraordinary cultural destination for creative exchange. Values: Art. Imagination. Creative Process. Play. YAM first opened in Billing, Montana in 1946. Their focus has been pinpointed on the Northern Rockies region, collecting art from all historic periods. They allow everyone in the community to dive into history through events that can be found on their website. They support the education through the community as well. Offering classes, programs and camps, for all ages, in order to make the museum your very own classroom. Rimrock Subaru wanted to join the march for a wider education through the community. Recently donating $5,000 to the YAM education and to help honor Sally McIntosh. Sally encourages people to show their art, and guides artist of all ages to explore their abilities through art. We encourage everyone in the community to take the time to experience YAM, experience the classes and programs they offer. Aspiring artist are encouraged to visit and see what YAM programs can bring to their art. Even people who are wanting to try art for the first time are welcome to experience The YAM and explore what they can do with art. We are happy to be involved with YAM and are grateful for what they provide to our community. Subaru thanks them for going out of their way and taking the time to write the owner of Billings Subaru a letter. "Dear Steve, Thank you so much for your generous donation to YAM education and for helping us to honor Sally McIntosh in a truly special way. Your support will help us continue the work that Sally championed while she was here at the YAM as well as bring art education to students of all ages in Billings and the surrounding area. Thank you so much for your support! Best Wishes, Carrie Goe Nettleton"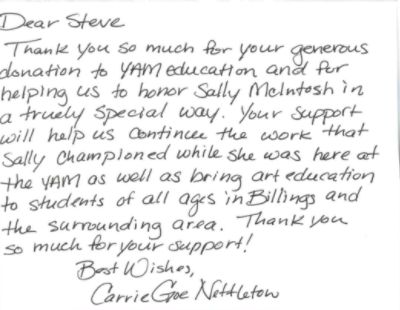 ---
Love What The Company Does - Why We Work For Subaru! - Rimrock Team - Rimrock E
Why can't the employees share their own Love Promise Story, we are going to anyway. After a few years of not being able to get active in the community, we are back. COVID-19 limited the activity that we were able to do, and the contact that we could make through local business and organizations. The Subaru Loves Pets Event was our most recent event where we could really bring people to the dealership. On October 22nd, Subaru had a pet adoption clinic at the dealership. We had dogs running all over the showroom, cats in and out of their cages getting more attention than they were ready for. It was great seeing so many people, after years of being limited on what we could do. We made sure that customers could bring in their pets for the day as well. A pet costume contest was a great way to get everyone involved. The winning costume was awarded a prize. We also had a drawing for everyone that came in and registered their pet, two winners were selected! We are grateful to have a local shelter like YVAS. They worked all day, running animals back and forth from the shelter and dealership. Making sure each dog got their time to shine and have an opportunity for people to meet them. They brought over eight cats that stayed with us all day and two puppies. Not only was YVAS actively working through the day to make this a great event, we had several other local organizations to help. Between YVAS, Billings Chamber of Commerce, MY105.9 and all of the family members of employees, the day had no chances of failing. Rimrock Subaru and all of their employees are happy to be back and ready for each event that we can be involved in. Remember to bring your pets any day. Buying a car or getting service work done, we have pet treats 24/7. We wanted to recognize the prize winners from the event. Our costume winner was Winston. He is a purebred good boy; his owners are Renee and Trevor who sent us a perfect pose in the costume. Our drawing winners are Zayda, a border collie and Muggles, a bearded dragon. Pet parent, Izzy, sent us a photo of Zayda in all her glory. Pet parent, Aaron, made sure that dogs and cats were not the only pets in the running. Again, we thank everyone that was involved with today's event. We hope to see everyone in future events! -Your Friends at Rimrock Subaru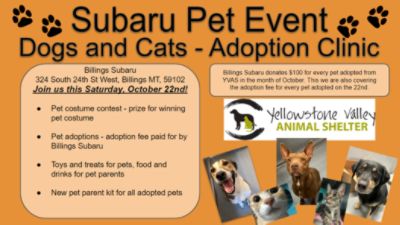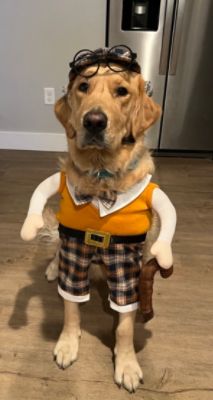 ---
My Subaru Love - Aaron K
Muggles and I have had my love for Subaru for quite a few years! Bought our first one five years ago and instantly fell in love with the car, the people, and the company. We've had nothing but positive experience from all of their departments. Living in Montana, the weather has been a big factor in our car buying process. The AWD from Subaru has made my ventures through the snow a breeze!! We feel safe behind the wheel. We know that we'll be buying another when the time comes!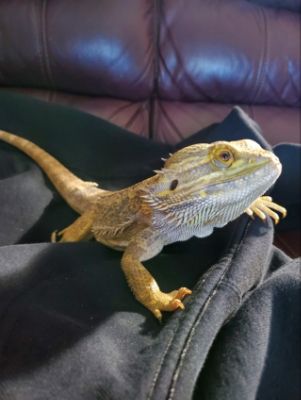 ---
Pet Adoption Clinic - Kenna W
This year Rimrock Subaru had a great turn out for the adoption clinic. A showroom full of dogs and kittens, of all ages, made the work day fly by. The community came through and found their new family members. It was such a success to the point where the shelter had a line reaching the street. Between a costume contest, a prize drawing, toys and treats from Subaru of America and Billings Subaru, sponsored adoption fees and donations to Yellowstone Valley Animal Shelter we couldn't be happier with the outcome. Subaru donates $100 to YVAS for every pet adopted through the month of October. On October 22nd, Rimrock Subaru sponsored the adoption fees for all pets adopted that day. Adult dogs rotated through the showroom, two puppies stayed all day until their new owners picked them up, kittens and adult cats were present through the whole day as well. October can be a busy month for the shelter. As people are busy with school, sports, getting ready for winter and the holidays. Making pet adoptions fall to the back of their mind. As the animals continue to enter the shelter at the same rate, people start to slow down with the adoption rate. Events like these gives the shelter some relief of being over capacity and helping these pets find their furever homes. Here are a few of the photos from the event. Thank you YVAS, MY105.9, Rimrock Subaru, Subaru of America, and Billings Chamber for making this a great event. See you all next year!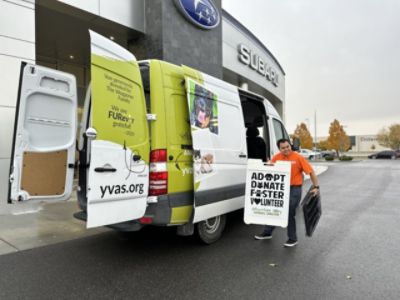 ---
Excellent Experience - Dennis and Susan K
Jesse King, one of the certified sales representatives here, always goes above and beyond for his customers. Taking the Love Promise to a new level, making each customer feel valued. Finding their needs and wants and matching it with a vehicle they can love driving. Words from a valued and loyal customer. "Jesse King, sales, at Rimrock Subaru spent most of his day showing us various models, discussion of ordering a new Subaru, explaining the various features of each model and trim packages! We were interested in the Outbacks and Foresters. We ended up purchasing our third Outback with his help! We had done online research and thought we knew these models well and were not easy with our questions - he was extremely knowledgeable about the various models. His focus was not on upselling us but finding us the right vehicle that we wanted! It was an excellent experience for us!" Jesse has received many letters and recommendations during his career at Billings Subaru. We are honored to have a sales representative that understands the way Subaru values their customers. Jesse King is a great example of the Love Promise through his interaction with each customer, through the sales process and delivery of each vehicle.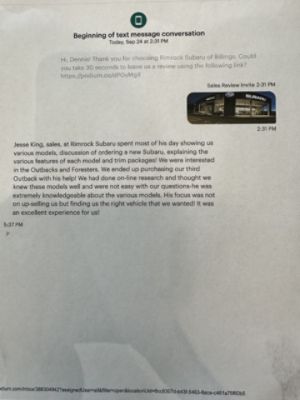 ---
Home of the Huskies! Our Own Story! - Rimrock S
The customers usually get to share their experience on the Love Promise Events. This being one of our favorite events, we wanted to share our story. This year Rimrock Subaru had the opportunity to work with Orchard Elementary School, Home of the Huskies. It was great getting to visit the school and meet the students. This year we were able to select six classrooms to be involved with. The Subaru Loves Learning event gets better every year! We visited each classroom, met with the students and their teachers, provided them with a kit full of school supplies, hand written notes from customers, and a fun project. The customers of Subaru got the opportunity to donate as well. Through adoptaclassroom.org the Subaru customers were able to give to the school. Subaru of America does great with planning and creating great opportunities within communities. The Loves Learning event specifically, supports the future of the community and gives them more opportunities to have a great school year. We thank all of the staff at Orchard Elementary, the teachers, and Principal Mr. Gaugler for letting Subaru visit them in such an early part of the school year. The kids that they are teaching are truly some of the best students. We would also like to thank the 5th grade class for the loudest "thank you" that we have heard. We hope to have the same opportunity next year and we wish all of you the best school year ever! Your Friends at Rimrock Subaru
---
Subaru Loves to Care - Rimrock S
Billings Subaru donated blankets and hope to The Leukemia and Lymphoma Society. Henry Kundig (GSM) and wife Vee Kundig, took the time to hand deliver these blankets. Subaru makes it easy to stand behind the brand. Not only due to what their product has to offer, but for always finding a way to be involved through the community. This is one of the many projects that we are proud to be involved in. Next year, we hope to have a 'light the night' be including in our area. The Leukemia & Lymphoma Society's Light The Night Walk brings light to the darkness of cancer by funding lifesaving research and support for people battling cancer. Our next event is focusing on a local elementary school in Billings. Visit the store and check out what we have set up so far to help the students have a great 2022-2023 school year.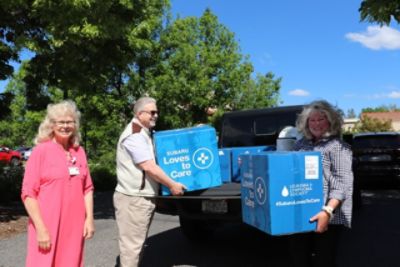 ---
The Subaru Man - Joyce and Jerry H
Jesse King, a sales representative at Rimrock Subaru, is loved by his customers. Recently receiving letters after customers have taken delivery of their new Subaru. This letter stood out more than others, giving Jesse a new view on why we strive to treat customers with a level ten experience, every time. "The Subaru Man Jesse's a Subaru Salesman The bestest that's ever been! He worked hard to find us the perfect car, And also became our friend. To an old Sr. couple, with little tech savvy! He showed patience to the extreme! And believe it or not! A few things caught! And they now know what they mean! (For awhile anyway.) It's twice now, that Jesse has sold us a car And in both cases, he's gone out of his way! As a Subaru Salesman to deal with ~~ I would choose Jesse any day!! Thank you Jesse for making and exhausting experience, almost enjoyable." -Joyce and Jerry Hartnett
---