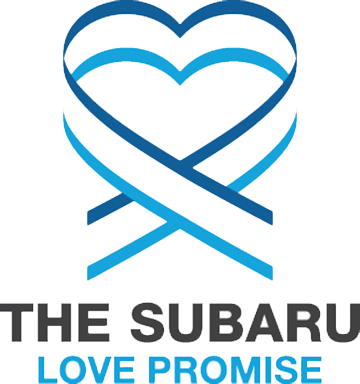 What is the Subaru Love Promise?
Subaru and our retailers believe in making the world a better place and the Subaru Love Promise is our vision of respecting all people. This is our commitment to show love and respect to our customers and to work to make a positive impact in the world.
How is Rimrock Subaru dedicated locally to the Love Promise?
Our Love Promise can be seen in various partnerships with local charities and non-profits. We're grateful for the opportunity, not only to be a part of our community, but to serve it as well.
Toys For Tots, Family Services
Love Promise Stories from Rimrock Subaru
Subaru and Rimrock Subaru believe in making a positive impact on the communities in which we live and work. We uphold that belief through our Love Promise Community Commitment. Every month, we select inspiring stories from customers and partners from around our area who strive to support our collective commitment and feature them here
Subaru Loves to Care - Rimrock S
Billings Subaru donated blankets and hope to The Leukemia and Lymphoma Society. Henry Kundig (GSM) and wife Vee Kundig, took the time to hand deliver these blankets. Subaru makes it easy to stand behind the brand. Not only due to what their product has to offer, but for always finding a way to be involved through the community. This is one of the many projects that we are proud to be involved in. Next year, we hope to have a 'light the night' be including in our area. The Leukemia & Lymphoma Society's Light The Night Walk brings light to the darkness of cancer by funding lifesaving research and support for people battling cancer. Our next event is focusing on a local elementary school in Billings. Visit the store and check out what we have set up so far to help the students have a great 2022-2023 school year.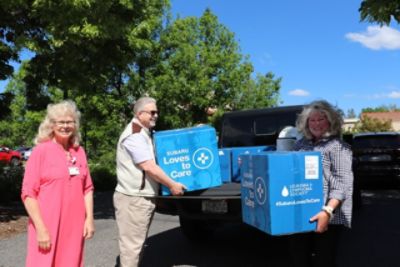 ---
The Subaru Man - Joyce and Jerry H
Jesse King, a sales representative at Rimrock Subaru, is loved by his customers. Recently receiving letters after customers have taken delivery of their new Subaru. This letter stood out more than others, giving Jesse a new view on why we strive to treat customers with a level ten experience, every time. "The Subaru Man Jesse's a Subaru Salesman The bestest that's ever been! He worked hard to find us the perfect car, And also became our friend. To an old Sr. couple, with little tech savvy! He showed patience to the extreme! And believe it or not! A few things caught! And they now know what they mean! (For awhile anyway.) It's twice now, that Jesse has sold us a car And in both cases, he's gone out of his way! As a Subaru Salesman to deal with ~~ I would choose Jesse any day!! Thank you Jesse for making and exhausting experience, almost enjoyable." -Joyce and Jerry Hartnett
---
2021 Love Promise - Stacy B
Rimrock Subaru is a proud supporter of Billings Family Service. Fall of 2021, through the Love Promise Community Commitment event, Rimrock Subaru was able to raise over fourteen thousand dollars for Family Service. We are so thankful for the support from our customers. Family Service goes above and beyond for this community, and we are happy to be a part of what their team does. These funds are essential for Family Service to provide food, clothing, rent, utility assistance and education, funding for more than fifteen thousand local families with children, those living with disabilities, and very low income seniors with the goal of achieving short term stability and eventual self-sufficiency.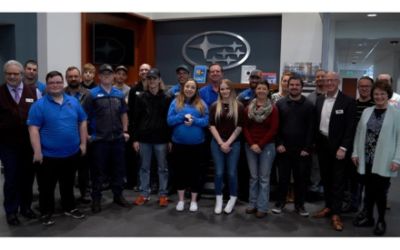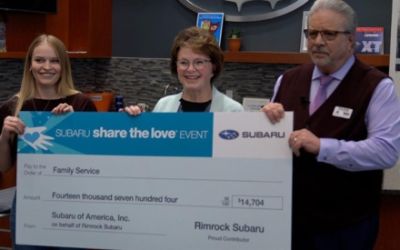 ---
Gemma's Story - Riley B
Gemma has quite the journey to share. A Good Samaritan originally found her in rough shape, wandering alone in Texas. They brought her back home to Montana, but she had some difficulty adjusting to the other animals in the home, and she was in need of some extensive medical care. She was thin and had some severe skin issues, but our main concern was for her oral health. During an initial examination it was suspected that she has a mild cleft palate, an underbite, and several abscessed teeth. Our medical team went in to perform a dental, and discovered that she had an oronasal fistula -- a hole caused by badly rotting teeth which allows food, hair, and other foreign objects to enter from the mouth into the sinuses. This infection caused part of her jaw bone to break and be unstable (and no doubt painful). The broken part of her bone including her canine and upper incisors was removed, and she was sent to a foster home for a few weeks in order to recover from her procedure and give her overall health time to improve before she was placed up for adoption. Gemma attended the Make A Dog's Day event at Rimrock Subaru and got to make lots of new friends. Following the event, her foster mom found herself missing Gemma from her life, and decided to come back and adopt her, stating "it was meant to be." We are so excited that Gemma has found her forever home, and are even more excited that we will be able to continue to see her progress and watch her thrive in her new little family. Her mom, Gayle, says "she is finally learning how to be a dog." During the month of October, Yellowstone Valley Animal Shelter successfully adopted out 233 animals, many of which have special stories like Gemma's to share. We are thankful to be a part of a community that loves helping animals as much as we do!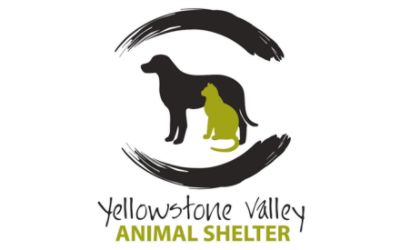 ---
Making Sure I got to Work - Leigh S
The kind of work that I do is paid hourly and you cannot make up missed hours. You're either there and you get paid or you're not and you don't. Last Monday, I reached my car to get to work but nothing was turning on. I'd had the car for less than a month and didn't know if I'd somehow drained the battery or I ended up with a faulty vehicle or what! I also have never used road service or my auto insurance and had no idea what to do on top of potentially missing my work. So, I called Trey Hinton, the dealer who sold me my car at Rimrock Subaru in Billings, MT. The dealership is just about right down the street from my house and I thought he could help direct me. Turns out it was his day off, but he happened to be nearby so he quickly showed up at my house, drove me to work, and then met me afterward to drive me back and jump start the car. He didn't even already have jumper cables; he went and bought some in order to help. Once the car was going he also, of course, figured out there was one little light I didn't know I'd bumped and left on hence draining the battery over time. He was a lifesaver making sure I made it to work and helping me with the car, and I hope you guys can give him a big pat on the back for that level of customer service.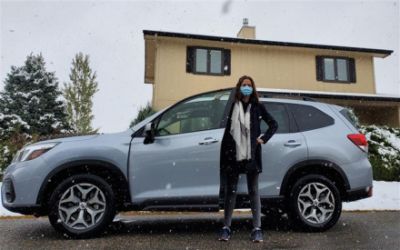 ---
Thank you for helping the animals of YVAS! - Tiffany S
It truly takes a village to help all of the lost and transitioning animals of our community, which is why the Yellowstone Valley Animal Shelter (YVAS) is forever grateful for Rimrock Subaru! Like many organizations around the country, our shelter has been significantly impacted by COVID-19. But despite a global pandemic, the animals in our community still need our help. Because of Subaru's generous donation, we can continue to provide top-notch care for our animals as they await adoption. Thanks to our supporters, including Subaru, over 227 animals were adopted from YVAS during October alone! One of the many animals adopted this month was Renegade, aka Renny. Renny was a stray cat brought to the shelter with a severely imbedded collar. Not only was the collar tightened around Renny's neck, but it had also slipped under his front leg, creating a large & painful wound. Because of donations like Subaru's, Renny was able to get the specialized care he needed here at YVAS. After several surgeries, months of medical treatments, and lots of TLC in foster care, he was finally cleared for adoption. Ultimately, Renny's foster parents fell in love with this sweet and silly cat and officially adopted him. On behalf of our staff and all of the animals of Yellowstone Valley Animal Shelter, we thank you so much for your continued support!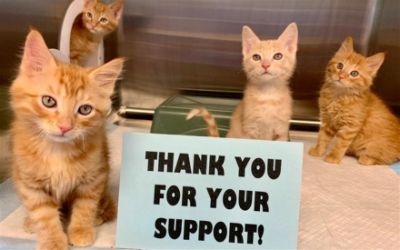 ---
Skyrocketing need, heart-racing stress no more! - Jane M
Dear Rimrock Subaru friends , Thank you so much for the letter detailing the donation from Rimrock Subaru and Subaru Share the Love program. With your letter, Family Service staff and board members learned how generous Rimrock Subaru was with their direct contribution. What a wonderful celebration of their community involvement! This terrifically generous and ambitious gift was so vital in a very challenging time—with local and regional food assistance skyrocketing during the COVID crisis. Rimrock Subaru made sure Family Service had the contribution from this amazing program in early April, during the pandemic shutdown, when everyone was gasping with uncertainty and heart-racing stress. With this generous help, the number of families and seniors receiving food increased exponentially, first doubling and then tripling with expansion of food outreach stretching resources as never before. We were able to tell everyone who asked, both new and old clients, that Family Service would remain open to provide generously for their nutritious food needs. The national conversation about food supply chains being depleted and significant hoarding which terrified many, especially senior citizens who were housebound and resource poor. Your funding provided the food supplies that were needed to keep saying "Yes, we can help" with every phone call--Yes to other organizations in town whose clients needed food, yes to small towns in the region without established pantries, yes to churches who were receiving phone calls from members needing help—with Subaru Share the Love program, you allowed the best response ever…YES, come and see us, we can help. These words of gratitude are small—but the impact was huge in this challenging time. Thank you for the help and encouragement when times were really exhausting. You all are TERRIFIC!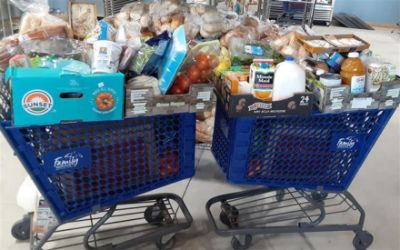 ---
Yappy Hour! Making a dogs day! - R Ernie L
Rimrock Subaru had a celebration for all things Dog, on Tuesday October 22nd. The best day in a dog's life is the day they are adopted. We want to celebrate National Make a Dog's Day with our own Yappy Hour! Our Subaru Loves Pets initiative showcases our promise and commitment to the smallest members of our family, our pets! Those who stopped in and saw pets from Yellowstone Valley Animal Shelter, learned how you can volunteer to help the pets of Yellowstone County. Got organic dog treats from DoggyStyle Treats, made right here in Billings. We had a mobile groomer available for your dog and a bathing area from them as well. We must have hauled away six black garbage bags of dog hair! We had Shiloh Vet Center with a few more pets to adopt. They were able to check microchips or get your pet chipped if they didn't have a microchip. We've brought another pet rescue to the event as well. Plus there was two Pet Halloween costume contest from 11:00-1:00; 1:30-3:30, and other free giveaways! We've got Free Dog toys or Bandannas for each of our furry guests. We took donations of old blankets, pet food or paper towels for the rescues and shelter. Celebrating Yappy hour with us and your dog at Rimrock Subaru of Billings, right next to Starbucks of Rimrock Mall was a blast! See you next time! Oh and while you're here, you could have gotten your car's oil changed in our Subaru Express Service Lane with a 50% off coupon from the Sales Department if you bring your pet. https://www.youtube.com/watch?v=seyJ20RehE0 Hold on, let me translate for your dog….. Bark!!! Bark!!! Bark!!! Bark!!! Bark!!! Bark!!! Bark!!! Bark!!! Bark!!!Bark!!! Bark!!! Bark!!! Good boy.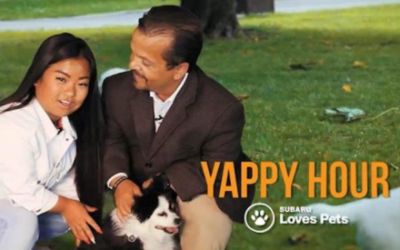 ---
Entered cautious, left confident - Brian L
I've never particularly enjoyed purchasing new vehicles; the lingering thoughts of "What did I overlook?" and "What other buying opportunities did I miss?" ever-present in the back of my mind for weeks after. This recent purchase put that all to rest, largely thanks to the sales rep Brady, but also to the entire staff at Rimrock as a whole. Brady is one of those guys who you can just talk to with and have an enjoyable conversation. Never mind the fact he's there to sell you a car, his knowledge, humor and eagerness to help really sets him apart. He's unlike any salesperson I've encountered. It didn't take long for me to make a decision once we started driving my future Outback. I've owned a couple Legacy's before but man was I unprepared for the level of comfort in these new Subarus. Their reliability and handling of Montana winters is enough to make me a customer for life, but throw in the luxury of the new models and it's not even a question. A big thanks to Brady and the rest of the team at Rimrock. A month later and I'm still giddy just getting in the car and starting it. I probably sound like a cheerleader when I talk about the car but it deserves it! Just another future repeat customer telling my story.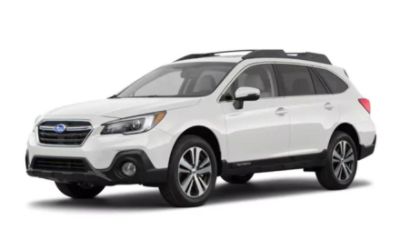 ---
Subaru and NWF Loves the Earth - Melissa S
Pioneer is a small school averaging 60 students K-6. Each student within our school had the opportunity to plant something in our school yard garden. We are very excited to see the progress we will have made when we return to school for the 2017-2018 school year!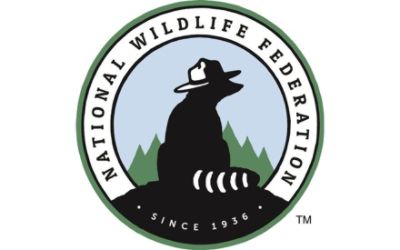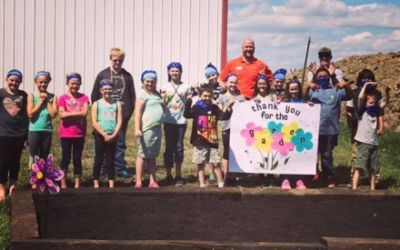 ---