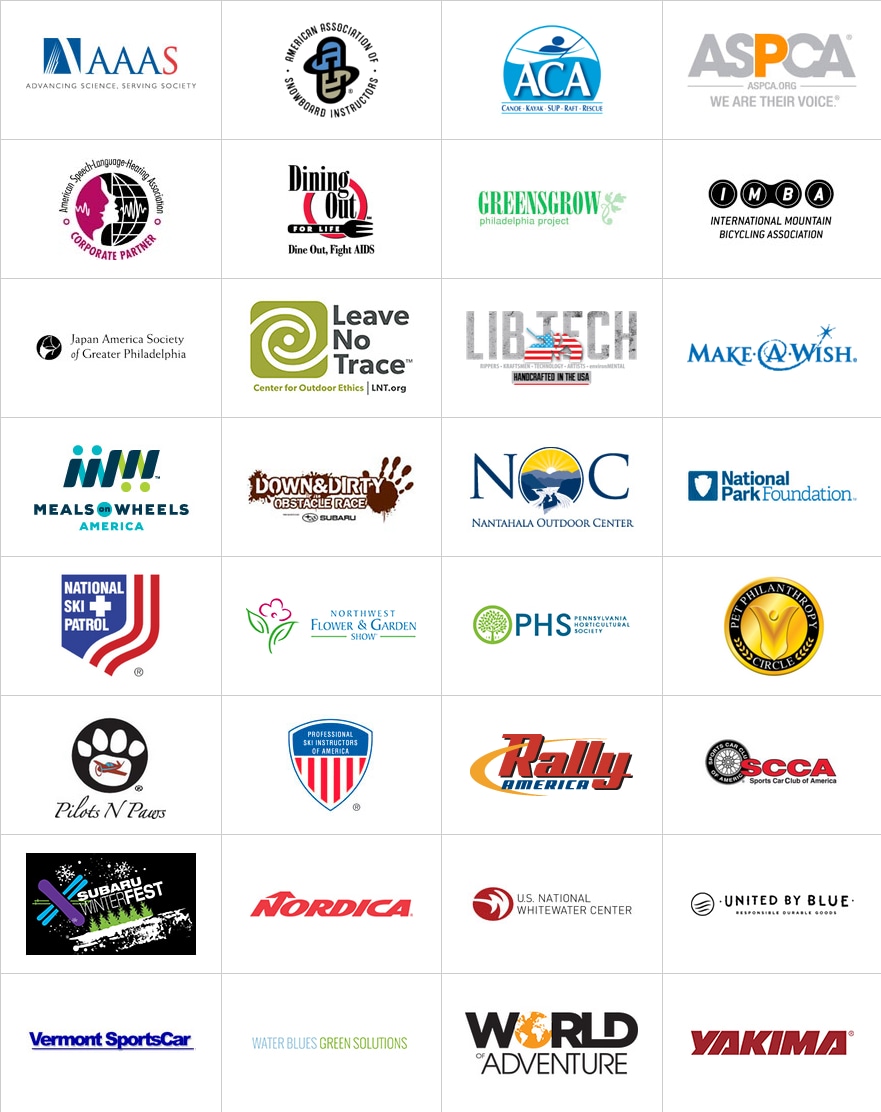 With more than 138,000 members and 275 affiliated societies, AAAS serves as an authoritative source for information on the latest developments in science. Subaru's sponsorship highlights our advanced design of all-wheel drive technology to our target markets and underscores Subaru's commitment to further science, engineering and technology education both at the annual meeting and programs throughout the year.
The American Association of Snowboard Instructors (AASI) is a nonprofit organization dedicated to promoting the sport of snowboarding through instruction. Snowboarders benefit from educational training and safety instruction throughout the year. Subaru is proud to be the official vehicle of AASI.
A nationwide nonprofit organization, the ACA (American Canoe Association) works to promote kayak and canoe Education, Recreation, and is an advocate for environmental Stewardship. Founded in 1880, this marks the third century that the ACA has actively promoted paddlesports across the U.S., providing programs and services to its members and the American public. The ACA is uniquely qualified to help individuals and organizations understand how paddlesport can contribute to the quality of life through enabling safe and positive paddling experiences. It is the objective of the ACA to be the recognized, primary resource to individuals, organizations, agencies and regulators for information and guidance on all aspects of paddling. Subaru is proud to be the official vehicle of the American Canoe Association. 
Founded in 1866, the ASPCA® (The American Society for the Prevention of Cruelty to Animals®) is the first animal welfare organization in North America and serves as the nation's leading voice for animals. More than two million supporters strong, the ASPCA's mission is to provide effective means for the prevention of cruelty to animals throughout the United States. As a 501(c)(3) not-for-profit corporation, the ASPCA is a national leader in the areas of anti-cruelty, community outreach and animal health services.
With one in every six Americans living with a speech, hearing, or language disorder, the American Speech-Language-Hearing Association (ASHA) has set forth to ensure these individuals have access to quality services which can help them communicate more effectively. Toward this end, ASHA has become the national professional, scientific, and credentialing association for more than 103,000 audiologists, speech-language pathologists, and speech, language, and hearing scientists. Subaru is proud to be the exclusive automotive sponsor for ASHA. 
Subaru is proud to host Dining Out For Life
®
 an annual AThe Subaru Love PromiseIDS fundraising event involving the generous participation of thousands of restaurants and volunteers across North America. Created by an ActionAIDS Philadelphia volunteer in 1991, Dining out For Life is now held in over 60 cities and raises upwards of $4 million each year.
Greensgrow Philadelphia Project is an experiment in urban farming. The farm was built on the site of an abandoned galvanized steel plant. Their mission-here and all over Philadelphia-is the redevelopment of abandoned land parcels (or "brownfields") as green businesses. Every year they harvest thousands of pounds of gourmet vegetables that are served at Philadelphia's finest dining establishments. Every year they welcome visitors and students who want to learn more about urban agriculture.  And every year Greensgrow's annuals, perennials, vegetable plants and flowers find their way into homes, gardens and public spaces across the city. At Greensgrow they truly reap what we sow. Greensgrow Philadelphia Project's home-the Greensgrow Farm in Kensington-is just five minutes from Center city Philadelphia. A former brownfield site, it was cleaned up by the Environmental Protection Agency (EPA). It sat empty for eight years until they took it over in March 1998.
The International Mountain Bicycling Association (IMBA)
The International Mountain Bicycling Association (IMBA) is a nonprofit organization headquartered in Boulder, CO, that encourages responsible off-road cycling, supporting volunteer trail work and promoting cooperation among trail users. IMBA enhances and preserves great mountain biking experiences through a network of 160 local chapters nationwide. Subaru is the official vehicle of the IMBA since 1996 and proud to have partnered with IMBA to create The Subaru/IMBA Trail Care Crew program. This program encourages sustainable trail building practices and promotes the education and efforts of IMBA chapters throughout the country. To date, Subaru and IMBA have impacted thousands of trails and communities.
The Japan America Society of Greater Philadelphia
The Japan America Society of Greater Philadelphia is devoted to fostering relationships between Americans and Japanese by promoting and encouraging a better understanding of the business, cultural, social, educational and political practices and customs of Japan and the United States. As the American branch of a Japanese company, Subaru of America, Inc. is honored to be the title sponsor of the JASGP's Cherry Blossom Festival. With its strong roots in the Philadelphia area, Subaru is proud to give back to the local community through this weeklong celebration.
Leave No Trace is a national organization that protects the outdoors by teaching people how to enjoy it responsibly. Since 1999, Subaru has been the official vehicle of this organization and a proud partner, working together to create the Subaru/Leave No Trace Traveling Trainer Program. This program enables teams of educators to drive across the country providing education and outreach to better educate participants and to help sustain our natural resources.
Subaru is proud to recognize Mervin Manufacturing, home of the Lib Tech brand, as our official snowboard partner. Lib Tech snowboards are hand-built in the USA at the world's most environmental board-building factory by people who ride them. From the very beginning, Lib Tech has been environmentally conscious with both their work environment as well as the building materials and processes. During the manufacturing process, Lib Tech recycles all wood, uses non-petroleum based bio-plastics, uses only low VOC epoxy resins and collects wood dust to be recycled as a soil additive. In addition to their environmental practices, they continuously support the lifestyle of outdoor enthusiasts.
Make-A-Wish grants the wishes of children with life-threatening medical conditions to enrich the human experience with hope, strength, and joy. According to a 2011 U.S. study of wish impact, most health professionals surveyed believe a wish-come-true can have positive impacts on the health of children, and kids say wishes give them renewed strength to fight their illnesses. Make-A-Wish grants a wish somewhere in the country every 38 minutes. Make-A-Wish has been a proud Subaru "Share the Love" partner since 2011. Since that time, Subaru has donated more than $4.5 million dollars, helping to grant 610 wishes in the U.S.
Meals on Wheels America is the oldest and largest national organization supporting the more than 5,000 community-based senior nutrition programs across the country that are dedicated to addressing senior isolation and hunger. This network exists in virtually every community in America and, along with more than two million volunteers, delivers the nutritious meals, friendly visits and safety checks that enable America's seniors to live nourished lives with independence and dignity.
Now in its fourth season, the Merrell Down and Dirty National Mud and Obstacle Series brings a fun, off-road, muddy challenge to athletes across the country. Featuring 5K and 10K courses, athletes conquer military-style obstacles, water crossing, cargo climbs, and plenty of mud. Check out when the series will visit a city near you.
As the nation's largest outdoor recreation company, Nantahala Outdoor Center offers a diverse collection of more than 120 different river- and land-based itineraries to over a million guests annually. NOC was recently awarded "Best Place to Learn" by Outside Magazine, "One of the Best Outfitters on Earth" by National Geographic Adventure, and their world-renowned paddling school was also awarded "Nation's Premiere Paddling School" by The New York Times. Over the past decade, Nantahala Outdoor Center has trusted Subaru vehicles to lead the way for over a million miles of outdoor adventure for guides and guests alike.
The National Park Foundation is the official charity of America's National Parks and nonprofit partner to the National Park Service. Chartered by Congress in 1967, the National Park Foundation raises private funds to help PROTECT more than 84 million acres of National Parks through critical conservation and preservation efforts, CONNECT all Americans with their incomparable natural landscapes, vibrant culture and rich history, and INSPIRE the next generation of park stewards. Find out more, and become a part of the National Park community at nationalparks.org. 
Subaru is proud to be the official vehicle of the NSP, a nonprofit organization headquartered in Lakewood, Colorado dedicated to serving the public and the ski industry by providing education on emergency care and safety. NSP's professional and volunteer patrollers put their safety on the line every day to make the slopes safer and more inviting for the millions of snowsport enthusiasts who visit ski and snowboard areas each year. 
N
O'Loughlin Trade Shows produces Subaru sponsored, Northwest Flower & Garden Show which has been heralding the start of spring since 1989, as gardening enthusiasts from around the Northwest flock to this annual celebration. Your gardening desires will blossom when you gaze at the spectacular Show Gardens, created by the most respected garden designers and landscapers of the region. Our full acre of show gardens are brimming with ideas that will get your garden projects blossoming. No matter your style or needs, you'll find inspiration for outdoor living, edible gardening, sustainability, and more.
The Pennsylvania Horticultural Society motivates people to improve the quality of life and create a sense of community through horticulture. In addition to being the Premiere Sponsor & Official Automobile of the Philadelphia Flower Show, Subaru of America also supports community greening programs and local garden shows throughout the year. 
Subaru is the exclusive vehicle and proud partner of the Pet Philanthropy Circle. The Pet Philanthropy Circle hosts the Pet Hero Awards annually. The Pet Hero Awards recognizes and honors those that dedicate their lives to the welfare of animals. The Pet Philanthropy Circle's mission is to save and enhance the quality of animal lives by promoting greater public awareness of their welfare and the causes that protect them. We accomplish this through educational programs, raising funds for qualified animal rescue organizations and the Pet Hero Awards.
Pilots N Paws is a 501(c)3 charitable organization that is making a difference in the lives of abandoned and neglected animals. Comprised of general aviation pilots working together with rescue volunteers and shelters, pilots donate their time, planes and resources to fly innocent animals to safe havens. Thousands of animals have been given a new chance at life by moving them from overcrowded shelters to permanent homes. If you are a pilot, or would like to help in any manner, Pilots N Paws needs you! This will be the most rewarding effort you will ever make. It just takes one act of kindness to make an impact and a change. Subaru is proud to support the work of Pilots N Paws and help desperate pets find loving homes. 
Thousands of ski instructors in the U.S. benefit from the education and training programs of the PSIA, a nonprofit association dedicated to promoting the sport of skiing through ski instruction. The association establishes certification standards for ski and snowboard instructors and develops education materials to be used as the core components of most snowsports school training. PSIA supports snowsport area management across the country through research and development of instructional programs for adults, children, and the adaptive community. Subaru is proud to be the official vehicle and a major sponsor of PSIA
Since 2004, Rally America has served as both the sanctioning body and commercial rights-holder of the premier stage rally series in the United States. Rally America oversees both regional and national level rallies across the country. Campaigning 5-door Subaru WRX STI rally cars, Subaru Rally Team USA has earned the prestigious Rally America National Championship title five out of the eight previous seasons by conquering grueling road conditions varying from slick snow and ice to loose gravel to large stones capable of swift tire punctures.
Since 1944, Sports Car Club of America has championed one mission: To bring motorsports to the masses of American men and women who are passionate about automobiles, speed and competition. From National Championships to regional events, whether professional or amateur, the SCCA exists to organize, support and develop auto racing at every level and provide a participatory-based outlet for individuals to get out of the armchair and into the action. SCCA activities include auto-crossing, rallying or road racing as a professional or as a weekend warrior. Subaru has been a corporate sponsor of the SCCA since 2002 and extends contingency funding to eligible Subaru entrants in various SCCA programs.
At Subaru, we believe in celebrating the love of adventure and the experiences made along the way. That's why we created Subaru WinterFest; a lifestyle tour stopping at some of the best mountains across the country. Join us to demo the latest equipment from Nordica and LibTech, take part in ski and ride clinics, grab some giveaways, and test your skills in the Freeride Experience. Adventure for the enthusiast and the whole family. 
Subaru and Nordica have joined forces to create the Subaru-Nordica Service Team (SNST). The SNST program is designed to offer the highest level of service in the industry for all of Nordica customers as well as to give skier's across the nation an opportunity to try Nordica boots and skis at hundreds of ski events this year. Each winter, you'll see SNST members traveling to ski areas across the country in their wrapped 2012 Subaru Outback models. With the Subaru Symmetrical All-Wheel Drive technology and Nordica's unparalleled skiing history, the Subaru-Nordica Service Team will be mastering snowy conditions on and off the hill all season. For more information on Nordica's boots and skis, please visit //www.nordica.com/products. 
U.S. National Whitewater Center 
Opened in 2006 in Charlotte, NC, the USNWC is the world's premier outdoor recreation and environmental education center. Alongside mountain biking and running trails, a climbing center, and challenge course, the park's most unique feature is a multiple-channel, customized whitewater river for rafting and canoe/kayak enthusiasts of all abilities. USNWC is designated by the United States Olympic Committee as an official Olympic Training Site. Subaru is proud to be the official vehicle of the USNWC. 
Subaru is proud to partner with organizations that make the world a better place, so United By Blue (UBB) is a natural fit. United By Blue is an ocean-friendly brand of apparel that, for every product sold,removes 1 pound of trash from our world's oceans and waterways through company organized and hosted cleanups. UBB designs and sells a line of organic cotton t-shirts, rugged waxed canvas bags, and artisan jewelry. Their products are available online at unitedbyblue.com and in retail locations across the country. By associating a concrete environmental action with every business transaction, UBB is able to create real and lasting change. UBB Cleanups are organized and hosted on an ongoing basis throughout the year, and the company strives to use their business as a means to educate consumers about the issue of ocean and waterway pollution. Join an upcoming cleanup by visiting their cleanup page. Since April 2012, Subaru has been the official vehicle and proud partner enabling United by Blue to reach over 100 cleanups across the country. Together, United By Blue and Subaru have removed close to 20,000 pounds of trash from our oceans and waterways. 
Established by accomplished rally co-driver Lance Smith in 1988, Vermont SportsCar was a technical partner for Subaru in 1999 thru 2001 and has acted as managing partner of Subaru Rally Team USA (SRT USA) since the 2006 race season. Competing in the 6-round Rally America National Championship for 2012, Subaru will again be working through Vermont SportsCar to provide technical and logistical support for its Subaru Rally Team USA program with the 2012 5-door Subaru WRX STI forming the basis for reigning champion David Higgins' title defense. Teammate and freestyle BMX pioneer Dave Mirra will be focusing his efforts on the 5-round, 2012 Global RallyCross Championship and X Games 18. Under the Subaru Rally Support Program, Vermont SportsCar continues to administer Subaru contingency programs supporting eligible Subaru privateers in their competitive endeavors within the Rally America National Championship. 
Subaru of America is the lead corporate sponsor of Penn State Public Media's Water Blues Green Solutions, a documentary and community engagement project that tells compelling stories of visionary leaders who borrow strategies from nature to clean and protect our water resources. Penn State is committed to enhancing the effectiveness of research, education, and outreach related to water.  
The Subaru and World of Adventure partnership seeks to connect and engage with the mountain sports and active lifestyle community across their passion points in relevant and authentic ways. World of Adventure is a year-round, multi-platform property reaching adventure and mountain sport enthusiasts via media and on-the-ground activation and events across mountain resorts. World of Adventure showcases content from the best athletes and stories in adventure sports in an Emmy Award-winning television series airing on NBC, NBCSN, and Outside TV and distributed across a robust digital content network. 
Subaru is proud to partner with the Yakima Road Warriors. The Road Warriors tour the nation in fully loaded Subaru Outback models, ensuring people everywhere are getting gear out of their cars to make room for more friends. After all, what are outdoor adventures without your favorite crew in tow? More gear on Yakima racks outside your car means you Take More Friends inside your car - leading to more memories of epic hikes, bluebird days, and 100-miler weekends. Armed with SWAG and endless amounts of rack knowledge, the Road Warriors are single-handedly helping thousands of friends make lasting memories in the outdoors. They can be found at outdoor events, trailheads, rivers, rack retailer and of course on the open road.